Product and Service Differentiation
Connecting Safety and Productivity with PROFIS Engineering Suite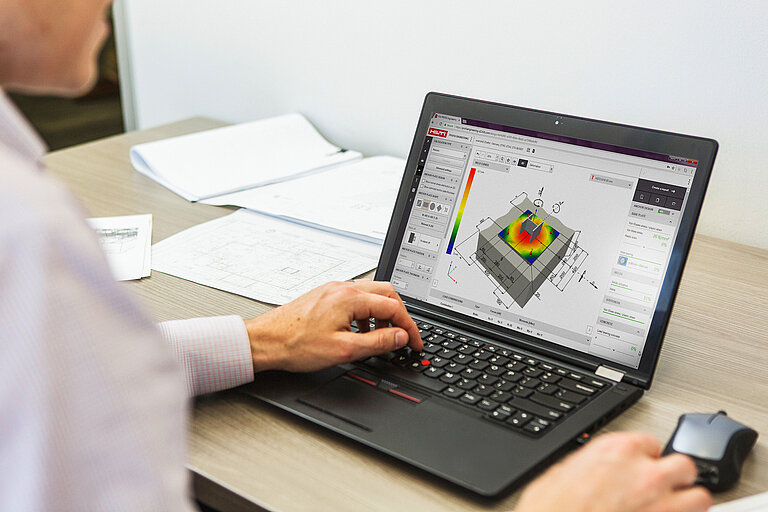 Did you know that Hilti's roots in construction design software run as far back as the 1980s? Fast forward to 2022, where PROFIS Engineering Suite is helping engineers cover a wide range of design operations faster and more reliably than manual methods.
Your work isn't easy
But Hilti PROFIS Engineering Suite is here to make it easier.
Design
Structural Engineer or Technician
This is the anchor design software you need to quickly tackle your steel to concrete/ masonry connections with confidence. Hilti PROFIS Engineering Suite is also the most efficient way to plan safe handrail fastenings and comply with local (regulations are not specific to anchoring, but to construction) regulations.
Add-on modules Handrail modules make designing handrail posts and rails easy and efficient.
Export Function You can quickly export CAD, BIM and Tekla Structures Models (via Tekla plug-in).
Plan
Detailer/ Draftsman
Tracking down item numbers and reproducing sketches can waste a lot of time. Stop manually searching for item numbers and creating bill of materials. Now you can automatically export CAD or BlM models with accurate and current item numbers.
Purchasing Module Save time and improve accuracy with one click ordering through Hilti Online.
Order
Purchaser
Hilti PROFIS Engineering Suite and the new purchasing module save time and improve accuracy by automatically creating an online order from the approved bill of materials.
Jobsite Module Be confident you are accessing the most up to date information and installing anchors accurately.
Install
Jobsite Manager/ Foreman
Hilti PROFIS Engineering Suite and the jobsite module help you move faster and make better decisions with immediate access to the latest anchor installation information directly from your smart phone.
Out of differences come similarities
Yilun Lu is a professional engineer at PKD Engineering Consultants in Taipei City, Taiwan. She is responsible for designing the glass curtain wall façades that cover some of the area's iconic buildings. Various pieces of hardware must be combined to join window framing to the concrete floors of a high-rise. To the southwest, in Hong Kong, sits Jesse Chan, Principal Engineer for Structural Design at Arcadis Hong Kong. In addition to curtain wall attachment, his work includes structural systems. He must optimize how steel will be joined to other steel members and to concrete. Different applications, different cities, requiring different codes and standards for proper design. Each engineer, and their firms, solve complicated problems for how various materials can be fastened together, working in harmony over the entire life of a building. Hours will be spent on trial and error, checking and rechecking, because the safety of everyone in and around the building will depend on it.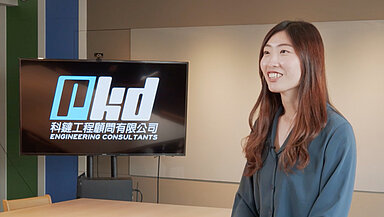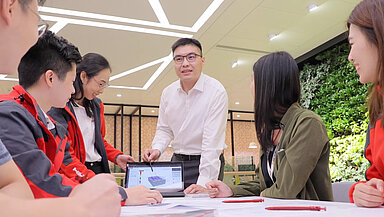 Manual to modern
Without software, an engineer's work starts with manual calculations, and lots of them. It is the kind of math some people dread during their formal education. A static mathematical formula exists for all types of load values, such as weight, seismic activity and wind. There's also data about the geometry of the connection – anchor bolts, brackets and so on. It's all tested through the formula to gain a result or solution. Different codes have different formulas and assumptions for what a design can handle. If the result of the formula is within the tolerance of a code, the design is deemed sufficient.  Adding to the complexity, codes and standards are constantly changing, making it difficult to keep track both locally and for firms that design globally.
"In the past, our structural engineers mainly used tables, based on relevant regulations and formulas, to review the design of curtain wall fastenings," explained Lu. "It takes a lot of time and labor to complete quality control, and relevant regulations are constantly updated. Engineers will inevitably refer to older regulations or formulas that can cause blind spots and risks in safety."
Since the 1990s, Hilti's direct customer relationship has offered us a front-row seat to this iterative and time-consuming process. Our first computer-aided design software focused on just one part of the engineering process: anchoring. HIDU, Hilti Dübel – anchor in English – comprised digital tables of information not unlike the stacks of Excel spreadsheets many engineering firms still use today. HIDU led to the more modern user interface and well-known PROFIS Anchor.
In 2017, PROFIS Engineering pushed Hilti into the software-as-a-service and cloud-based resource model, which covers even more of engineers' concerns. The software supports sustainability by reducing re-work, reordering of product, avoiding over-design and, in some cases, eliminating the need for excessive on-site anchor pull-out tests, thus reducing waste. Today, PROFIS Engineering Suite is a subscription-based service, adding to an already long list of ways we partner with our customers. In addition to on-site and in-person support, the suite itself includes access to engineering training and e-learning modules that combine our digital application service and in-app training.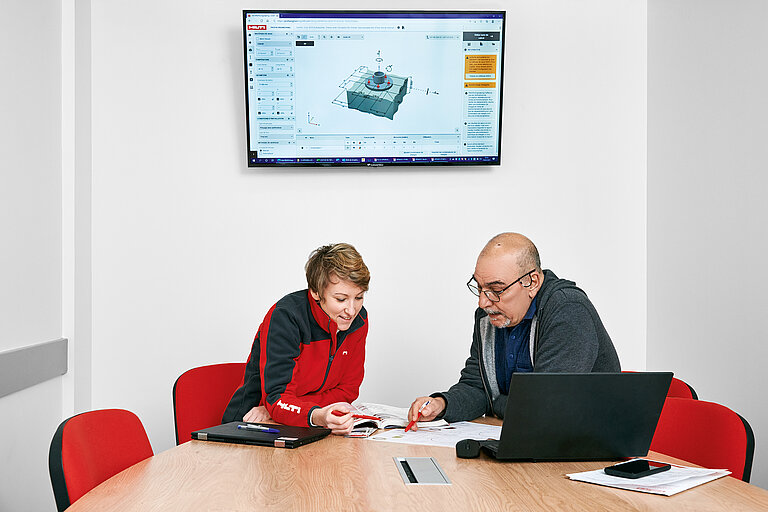 Making the connection
For Hilti, PROFIS Engineering Suite presents a massive opportunity to embed ourselves into the initial stages of a building's construction. Specifications, or requirements by the engineer of record, to use Hilti products are the first section of a long pipeline of eventual sales of mechanical and adhesive anchoring solutions, tools and services. Millions of Swiss francs have been invested in the suite, which now includes features that cover the whole application – not only the anchor we sell but also the baseplate, stiffeners, welds and base material. PROFIS helps the engineer consider the entire system, says engineer Chan.
"Design requirement updates keep refreshing with different products launching to the market. That is why we must ensure that the design solution fulfills the latest local assessment. PROFIS Engineering is our one-stop solution design software, and it reduces repetitive work. Using this software can help decrease our efforts, increase my teammates' productivity and lead the design to perfection. The calculated results also provide for greater optimization of the materials than the manual calculation, which is beneficial to the owner and contractors, too."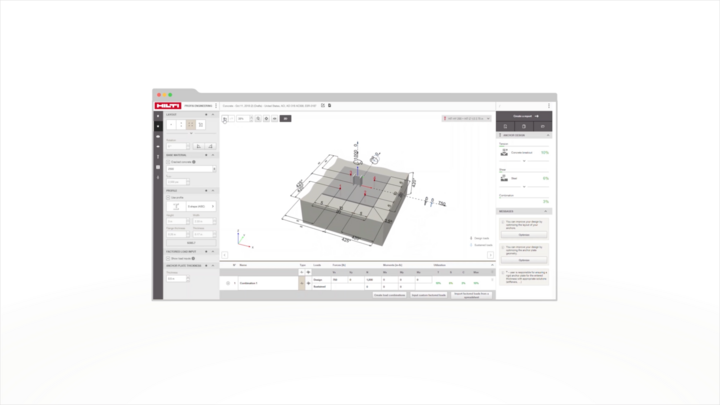 Designed with our customer, and theirs, in mind
Back in Taipei, Yilun Lu explains that it has not been that long since her company was introduced to PROFIS Engineering. "It cuts the time that I spend on calculations by about 20 percent," she explains. "I can operate this software anytime, anywhere, even at the wind testing laboratory or on the construction site, through mobile phones, tablets and computers to quickly solve urgent requests from customers. An additional benefit is that the traditional Chinese interface and the inclusion of Taiwan's concrete design code make us more efficient in communicating with local customers."
"During the design process, we only need to enter all parameters in the control panel from top to bottom, then enter the load values. After clicking the calculate button, you immediately know if your design, including the anchor, baseplate, steel column and the welding, meets the external forces requirement. After review and confirmation, you can easily generate the calculation report or directly output our 3D building model into further BIM tools."
Fortunately for Lu and Chan, their engineering firms have modernized away from the manual calculation methods of Excel spreadsheets, pivot tables, macros, and pencil and paper.
PROFIS Engineering is not the only connection and engineering design software on the market. What is different is Hilti's constant attention to expanding and maintaining the massive code and standards libraries behind it. This supports our customers no matter where they are working. The software boosts productivity over manual calculations and, as an additional quality-control check, increases the probability of safe design.
With support functions and features we've built in based on direct feedback from our customers, PROFIS Engineering Suite is a packaged solution ready to make a connection between safety and productivity in the design process.
The proof is in the stats
85+Countries

Hilti software is used by leading counstruction firms across the globe

30+Years

Hilti Dübel (anchor in English) was introduced in the 1990s

4xFaster

Anchor calculation reduced from 20 minutes to 5 minutes

5Million customer calculations

More than 1.5 million calculations done by Hilti's expert engineers for our customers