OUR STRATEGY
The Hilti Strategy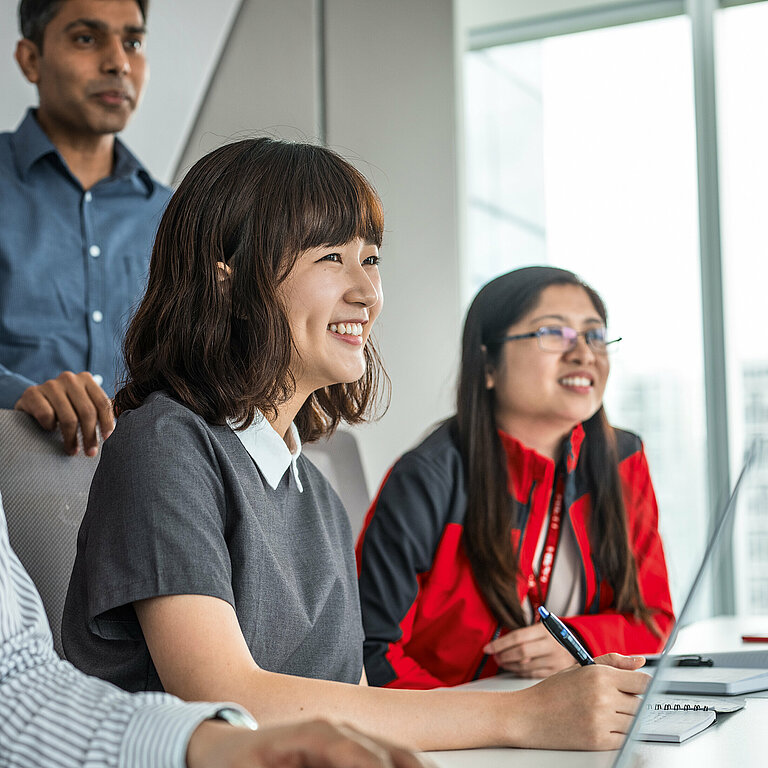 We aim to be the partner of choice for our customers to get their work done faster, more productively, safer and in a more sustainable way. To achieve this, our sales engineers work directly with our customers around the world and support them with differentiated solutions (tools, fastening technologies, software and services). We deploy a purely direct sales model. Our strategy centers around sustainable value creation through differentiation and market leadership and rests on a strong foundation of our caring and performance-oriented corporate culture.
Our Purpose
We passionately create enthusiastic customers and build a better future. Simply serving customer needs is not enough: our ambition is to go the extra mile in everything we do and to excite our customers by providing a unique experience.
Our Strategy
Our strategy builds on our DNA of innovation and direct customer interaction, which allow us to provide differentiated offerings to our customers as a combination of high-quality hardware, software and many services that our sales engineers provide on the job sites and at the offices of our customers. Sustaining our innovation leadership requires continuous high investments that can only be financed with strong market leadership positions. Therefore, our strategic objective is sustainable value creation through differentiation and leadership.
Our Four Imperatives
We continuously invest in innovation to differentiate our products, software and services in the marketplace.
We maintain direct access to and close partnerships with our customers in construction and related industries.
Our operational excellence in all processes supports our promise to customers, ensures their success and strengthens our leading position on the market.
We are a high-performing global team with currently about 31,000 employees who work diligently and relentlessly every day to achieve these targets.
Our Foundation
We live and nurture a strong, caring and performance-oriented culture that rests on four values: integrity, commitment, teamwork and culture. All 31,000 team members participate in regular "Team Camps" to explore the essence of our culture and review how they perform as a team. To help and guide the teams on our culture journey, we deploy more than 70 "Sherpas" as culture guardians and coaches to our teams around the world.
Our Sustainability Strategy
Building a better future – this has been our guiding principle for almost two decades. We are convinced that long-term success is only secured through business decisions that value environmental, human and social aspects equally with economic factors. Our holistic sustainability strategy, built on the three pillars of Environment, People and Society, is the compass that guides us along this path.
Environment
We can only be successful in the long term if we conserve natural resources and reduce the negative impact of our actions on the environment.
People
Our business is a people business – customers, employees and partners. For us, building a better future means contributing to the best possible health and safety standards in the construction industry. User and building safety are just as important to us as the health and safety of our employees.
Society
We actively contribute to building a better society with high ethical standards and the ambition to achieve social impact at scale. We have operationalized this ambition through the activities of our Compliance Network, the Hilti Foundation and our Engaged Beyond Business Program – a corporate volunteering program that offers various opportunities for all our 31,000 team members worldwide.
Sustainability
Within these three pillars, we have set ourselves ambitious targets (for example, to be CO2 neutral by 2023). Achieving all these targets is only possible by driving them forward within our four strategic imperatives.