Circularity – Second Life of Tools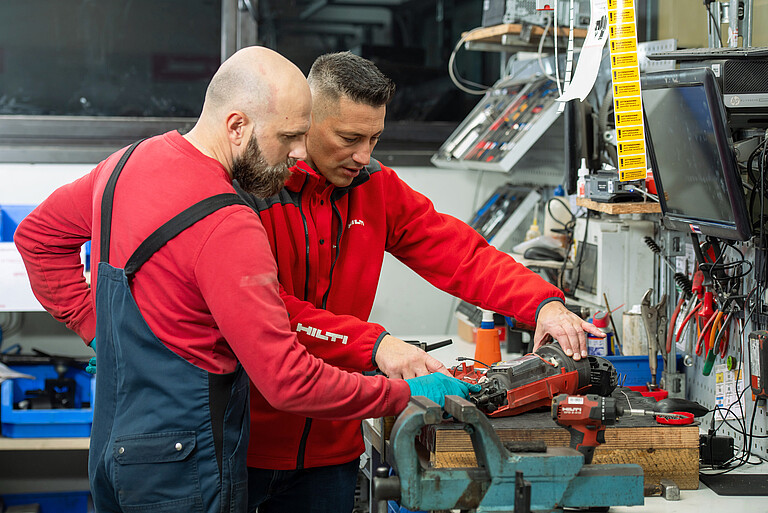 At Hilti, we believe in circularity as generating maximum added value with a minimum use of raw materials. In 2020, we concluded our circularity strategy and became one of the first companies to use a specific methodology to quantify and to track our circular progress.
There are heroes of implementation at our Tool Service Centers (TSC) all around the world. It's colleagues like Regional Repair Expert Umberto Gallo who play a key role in enabling circularity at Hilti. Let's take a closer look behind the scenes at our TSC in Carpiano, near Milan, Italy, which serves the South European region. It is among Hilti's five biggest service centers. With his impressive 16 years of Hilti experience, Umberto guides us through the journey of a Hilti tool's second life.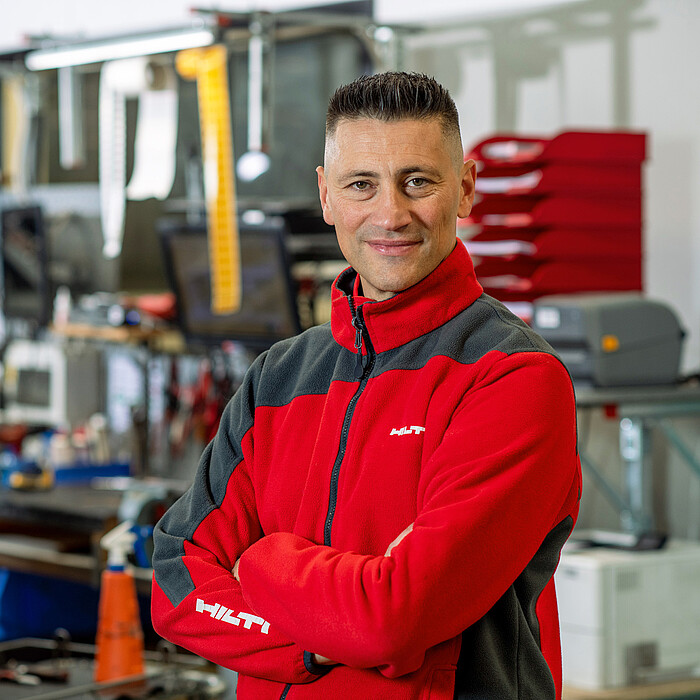 Due to this process, we have considerably increased spare parts reuse. In 2022, our TSC gave a second life to several thousands of spare parts, substantially increasing the reuse rate, which is 78 percent higher than last year.

Umberto Gallo, Repair Expert
Hilti has increased its focus on sustainability. What changed specifically in 2022?
Hilti has always had many standards regulating its repair operations. It was last year that we started a new global process to do even more based on circularity. Our technicians are guided end to end thanks to an automated process, which provides a comprehensive picture and defines when which part is extracted, following prescribed criteria.
Due to this process, we have considerably increased spare parts reuse. In 2022, our TSC gave a second life to several thousands of spare parts, substantially increasing the reuse rate, which is 78 percent higher than last year. This corresponds to ten tons of valuable electronics, motors and rotors, mainly collected from tools at the end of their Fleet Management agreements.
Built to last, and repaired to last longer: Every year, we collect more than 1 million Fleet Management tools, batteries and accessories globally at no additional cost to the customer.
How are you meeting circularity goals while keeping a focus on high quality?
We do not compromise on quality. The contribution of the repair centers to circularity is built on automation, constant analysis and data transparency.
Automation makes us more efficient and focused on helping our technicians. We test each reused spare part and offer the same guarantee as if it was a new one. To give you an example, even a tool as simple as the Hilti screwdriver is monitored according to at least 16 to 20 quality criteria.
Then we collect the data and work with it to constantly improve the process. Each tool has its own profile in the system, including all the repair history data. This enables us to control the quality and provide valuable information to our Fleet Management customers via circularity reports. That way, we provide full transparency to our customers on their circular contribution.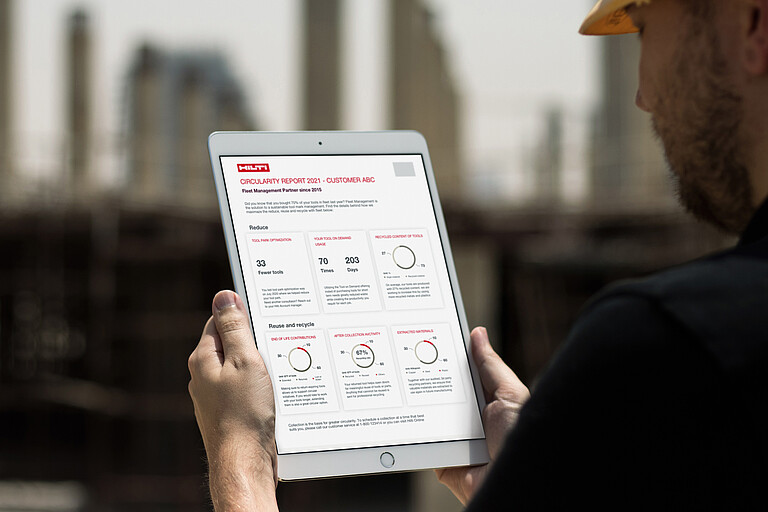 Umberto, what is your personal contribution to meeting sustainability goals?
Personally, I recycle everything from food to plastics, paper and glass. I also try to use a bicycle or public transport instead of a car, especially when I go into the city center. I teach my kids to recycle and to save water and electricity. I think they should take care of what they have. If something breaks, I try to reuse and repair it wherever possible to show my children that things can have a second life.
RESPONSIBILITY BEYOND A TOOL'S LIFETIME
Zooming out from Carpiano to view the organization as a whole: Developing new tools is not simply about new and innovative technologies. As an industry leader, we have a responsibility for the well-being of our employees, our customers and our environment. Knowing that the construction industry is resource-intensive, accounting for around 40 percent of all raw materials consumed worldwide, we ensure that raw materials flow back into the system. We are focused on the principle of "reduce, reuse and recycle" across the entire value chain, and aim to expand our leading position in circularity as part of our sustainability strategy.
Reduce

We offer our customers tool park optimization to make sure that resources are not wasted on duplicate, excess or idle tools.

Reuse

Hilti tools are built to last and repaired to last longer.

Recycle

Any tool that cannot be reused is recycled.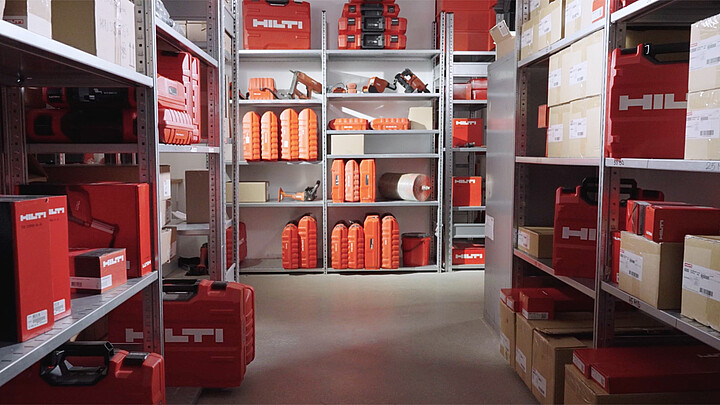 HILTI LEADS THE WAY
Hilti's approach to circularity not only adds value for our business and our environment, but also leads the way for sustainability in the construction industry. Read more about our integrated sustainability strategy in our Sustainability Report or check out the links on the bottom of the page.
>1,000,000Tools, batteries and chargers

collected annually for circular usage

2–18%Increase in tool reuse

of collected fleet management tools while increasing collection volume by more than 30%

100,000Spare parts reused

grown from 10,000 within three years

90Tons saved

in valuable electronics, motors and rotors per year