Redefining Chemical Anchor Technology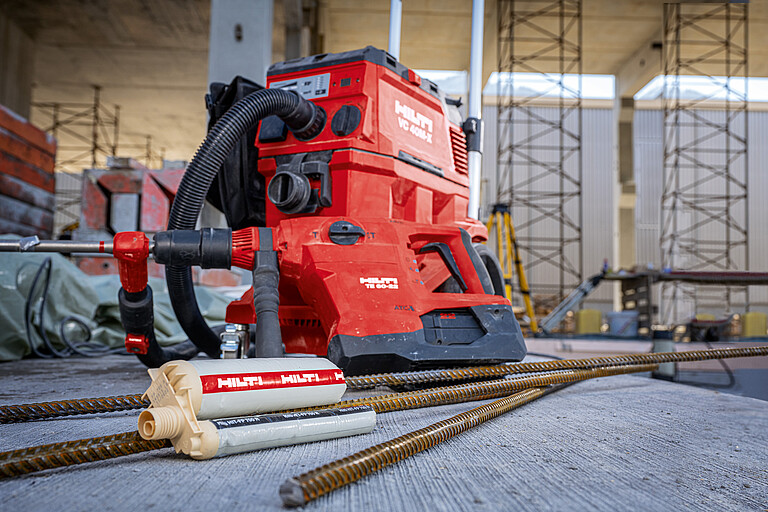 Our search for solutions that make construction faster and buildings safer is never-ending. This search also affects our anchoring solutions, which are used across the globe to make the structural connections that hold buildings together. Hilti has developed two novel anchor technologies to help our customers build safer and with greater speed.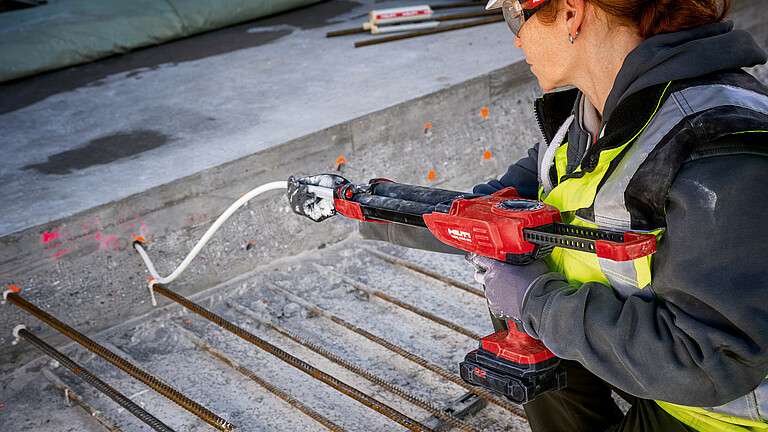 FIRST EVER INJECTABLE INORGANIC MORTAR – HIT-FP 700 R
Post-installed rebars, 'glued' in place with organic mortars, are commonly used in construction. In the event of fire, organic mortars lose strength due to high temperatures. At just 100°C, this can be as much as 50 percent, whereas concrete hardly loses strength up to a temperature of 500°C.
An estimated 40 percent of the connections can be critically affected in the event of fire. Engineers deal with this by increasing concrete cover and embedding rebar deeper. Concrete cover insulates the rebar and deeper embedment increases surface area for the adhesive. These solutions work but come at significant cost.
We asked ourselves how we could enhance safety in case of fire without the additional time and effort required to design and install existing solutions.
With this in view, and with years of research, testing and development, an innovation was born: the first ever injectable inorganic mortar – HIT-FP 700 R, the very first generation of inorganic chemical anchors. HIT-FP 700 R behaves like concrete under high temperatures, removing the need for additional, costly protective measures, and is as easy to install as organic mortars, thus enabling faster and safer construction.

Fully compatible with revolutionary Smart HDE and SafeSet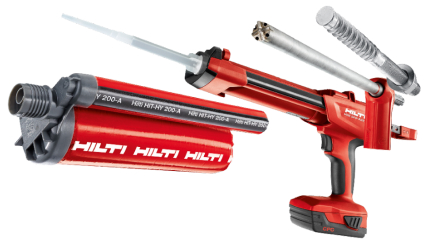 Fully compliant with fire design methodology according to EC2-1-2
Full range of approvals: ETA, ICC, static, seismic rebar and fire Low HSE labeling & BASTA compliant

Unmachted performances in fire up to 500°C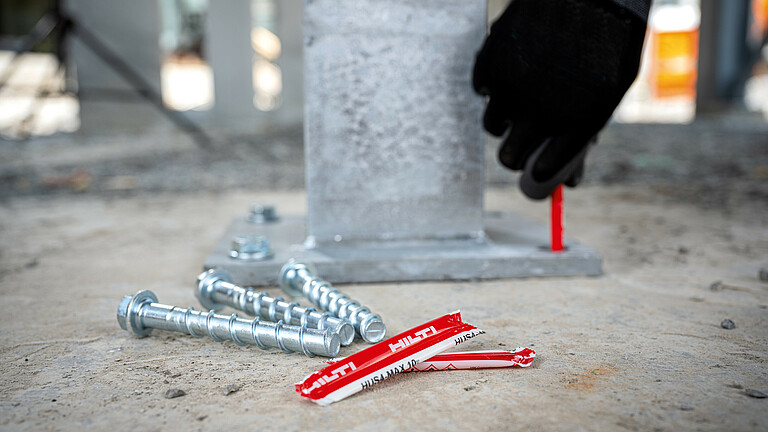 HUS4 MAX: THE BEST OF BOTH WORLDS
For post-installed anchors, there are two main technologies: mechanical and chemical. Mechanical anchors are popular for their ease of installation and immediate loading. Chemical anchors offer the highest loads and ensure a sealed hole which helps avoid penetration by water and other fluids. When designing baseplate connections, engineers constantly weigh the benefits of both technologies to make the right decision for the application at hand. What if they had an option of one anchor combining the benefits – as far as possible – of both anchoring technologies?
This "what if" has now become reality with the HUS4 Max as it combines the best of both worlds.
By inserting the HUS4 Max foil capsule into the drilled hole before setting the HUS4 mechanical screw, you combine the ease of installation of a mechanical anchor with the performance of chemical anchors. No need for accessories, cleaning or torquing and no waiting time before loading, allowing for faster and safer construction.