Editorial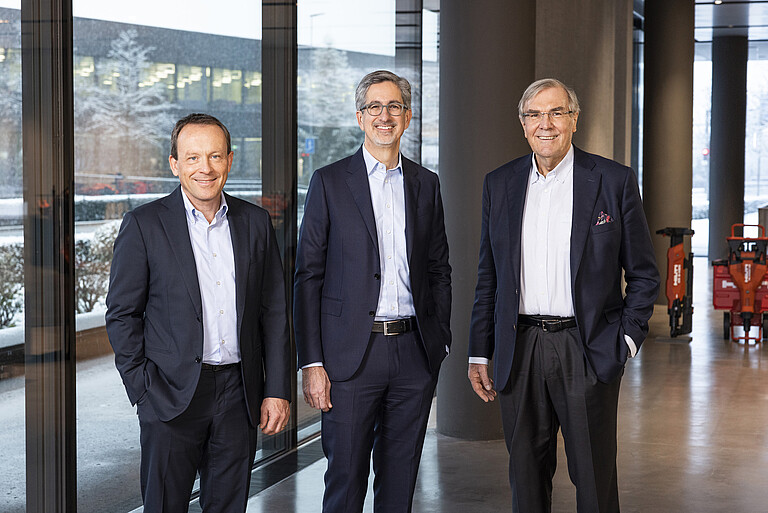 Dear Readers,

All hopes that 2022 would see a continuation of the recovery from the coronavirus vanished on February 24 when Russia attacked Ukraine. This marked the beginning of a tragedy for the Ukrainian people and led to significant economic consequences for the world. For Hilti, this created a challenging environment with the collapse of our Russian business, worsening supply chain disruptions, steep material cost increases and a significant appreciation of the Swiss franc.
While these effects created demanding headwinds, we have decided to stay the course with continued strong investment in innovation, digital transformation and the further buildup of our software offering. Overall, we have added 1372 new team members and increased our operating expenses by roughly CHF 500 million. One result of this was the launch of our new battery platform, Nuron, with an initial offering of more than 70 new tools. This innovation will enable us to redefine the power tool business in the coming years. With Nuron, not only do our customers have access to unprecedented performance and cloud connectivity, but all the tools are also powered by the same battery platform, greatly simplifying work for our customers. Another result was the launch of our project management software, Fieldwire, in Europe after the successful acquisition of the US-based company in 2021.
Continuing and accelerating our investments in this tough environment left traces in our results, but still allowed us to keep our numbers within the target corridor of our Group Strategy, Champion 2020. We have recorded 10.0 percent sales growth in local currencies and 6.2 percent in Swiss francs and closed our books with more than CHF 6.3 billion in sales and an operating result of CHF 731 million. This represents a return on sales (ROS) of 11.5 percent and a profit decline of 13.7 percent compared to our record result of 2021.
We are proud to see that the last three difficult years have brought our teams even closer together. The results of our annual global employee opinion survey show that 77 percent of our team members are engaged or highly engaged, a significant increase over the pre-pandemic results in 2019 (72%). This is further underscored by the "best workplace awards" we received in 2022. The two we are most proud of are our 4th place in the overall European company ranking and 8th place in the global ranking.
Despite the turbulence experienced in 2022, we continued our focus on sustainability initiatives. Our strong commitment to running our own operations in a more sustainable manner continues. This also helps to enable our customers to run their businesses with greater safety and in an environmentally friendly manner. We are keeping up our investments aimed at securing renewable energy sources for our operations worldwide and have already switched over 30 percent of our 14,350-strong vehicle fleet to electric or hybrid vehicles. This goes hand in hand with our efforts to leverage our unique "cradle to grave" business model to drive circularity in our customers' tool parks. We take pride in the social impact we make, not only through our employees' Engaged Beyond Business activities, which support local communities in every country we operate in, but also through the global reach and scale of the Hilti Foundation. We strongly believe in our long-term sustainability strategy and have therefore decided to commit to the Science Based Targets initiative, with a reduction commitment of 30 percent of our absolute CO2 emissions by 2033 and net zero by 2050.
2022 has also been a year of transition for our leadership team. We finalized the generation change among members of our Board of Directors and Executive Board that had been communicated in 2021. As part of this shift, Christoph Loos takes over from Heinrich Fischer as Chairman of the Board of Directors at the beginning of 2023. At the same time, Jahangir Doongaji becomes the new Hilti Group CEO. This change has gone smoothly and – while ensuring continuity – prepared us well for the future. As part of this transition, the new Executive Board has developed the next chapter of our Group Strategy in an intensive process involving more than 300 team members from all over the Hilti world. Lead 2030 is an ambitious program that will shape our journey for many years to come. In our strategy chapter, we will discuss it in more detail.
2022 threw a variety of challenges at us. Still, we mastered these challenges and delivered solid financial results. Thus, our thanks go out to our more than 32,000 employees around the world. They are the ones who passionately serve our customers every single day by developing, selling and delivering our products, software and services. Thanks to our customers and suppliers for their commitment, resilience and teamwork during these demanding times. We look forward to continuing our joint journey of making construction better.
| | | |
| --- | --- | --- |
| Heinrich Fischer | Christoph Loos  | Jahangir Doongaji |