How We Support Our Customers in Reaching Their Sustainability Goals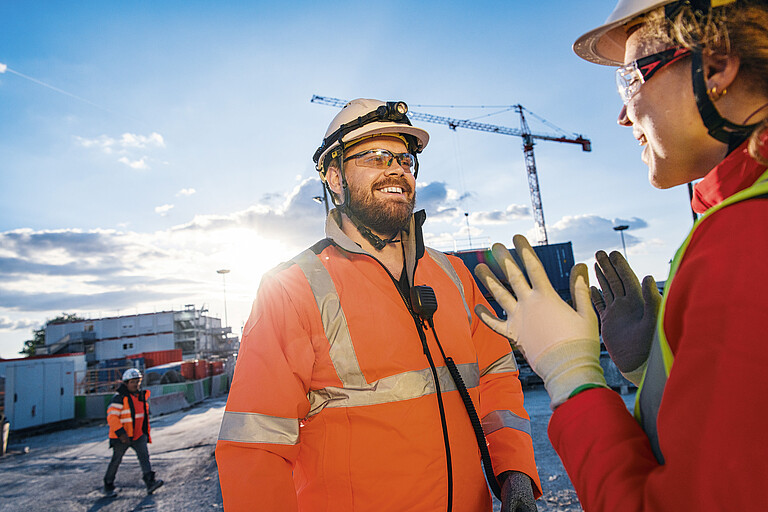 We make our customers aware of sustainability topics and support them in responding to the increasing need to become more sustainable. The team offers consultation on topics such as green building, eco-products, circularity and building safety.
Feedback from our customers plays a key role in the continuous improvement of our product and service offering. We systematically ask for our customers' opinions and build on direct and regular personal contact as part of our differentiation. As we further accelerate our sustainability ambitions, we continuously engage with our customers to gain valuable insights for further improvement opportunities that support us in being an environmentally responsible partner in the construction industry.
Our ambition is to be the best partner for sustainability and make our customers' business, and by extension the entire construction industry, more sustainable. To do so, we continuously strengthen our offering and closely collaborate with our customers in terms of their sustainability goals.

Cinzia Estori, Global Customer Sustainability Management Team Lead
As a result of this continuous exchange, we see an increasing need to support our customers in reaching their sustainability goals. Besides tackling topics like the environmental footprint of our own operations or the health and safety of our employees and the users of our products, we also aim to provide solutions that decrease our customers' carbon emissions and increase efficiency.
For this reason, we established a Global Customer Sustainability Management Team in 2021.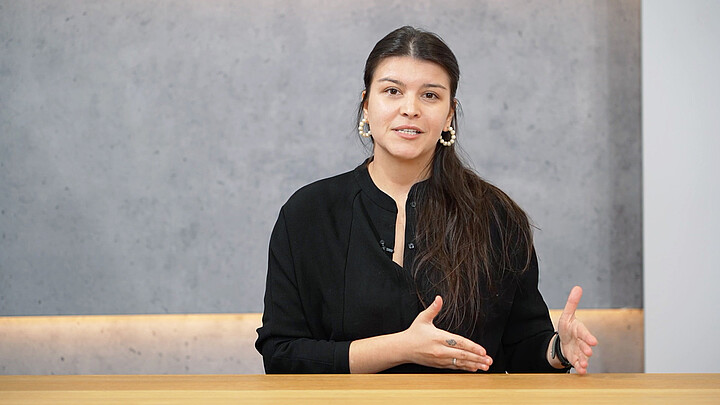 ELEVATING SUSTAINABILITY WITH SCHINDLER
We provide numerous products that remain permanently in a building and thus become part of the building's life cycle. When consulting with our customers on which products to install, we pay special attention to low emission levels, high energy efficiency and optimized material usage.
For their project business in Germany, Schindler Aufzüge AG was looking for a reliable fastening solution. Our project team saw this as an ideal opportunity to consult with the long-standing customer on a potential Hilti anchor solution that would not only meet the product requirements but also make it possible to use less material while still ensuring that safety and quality expectations are met.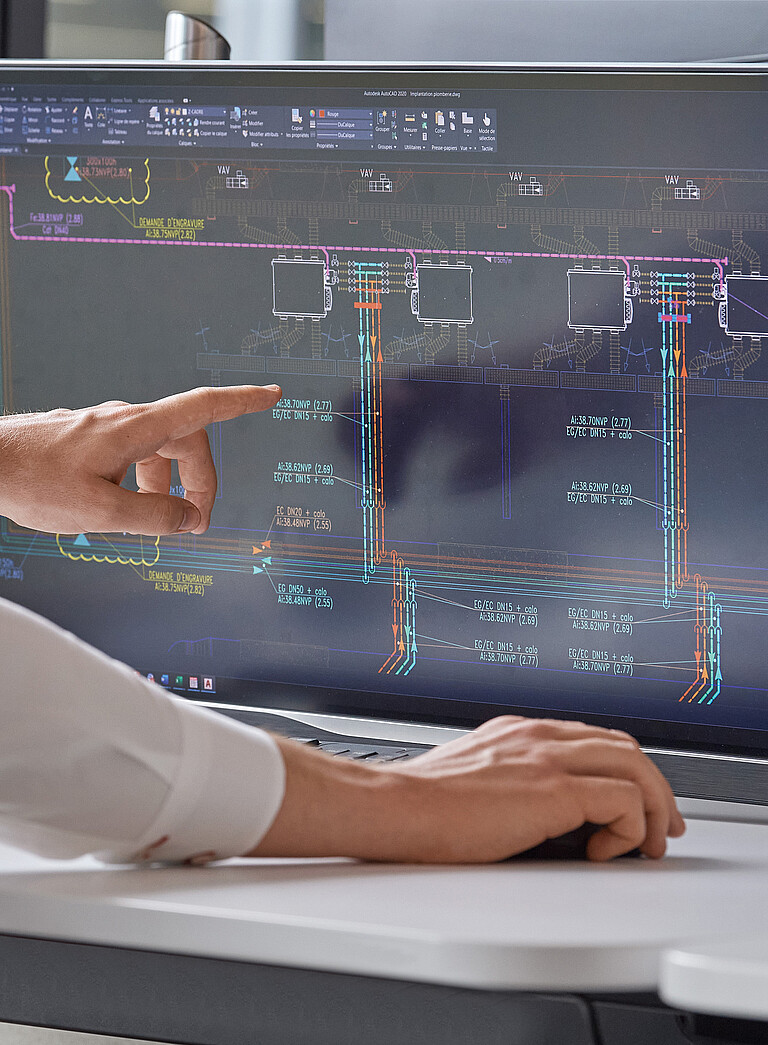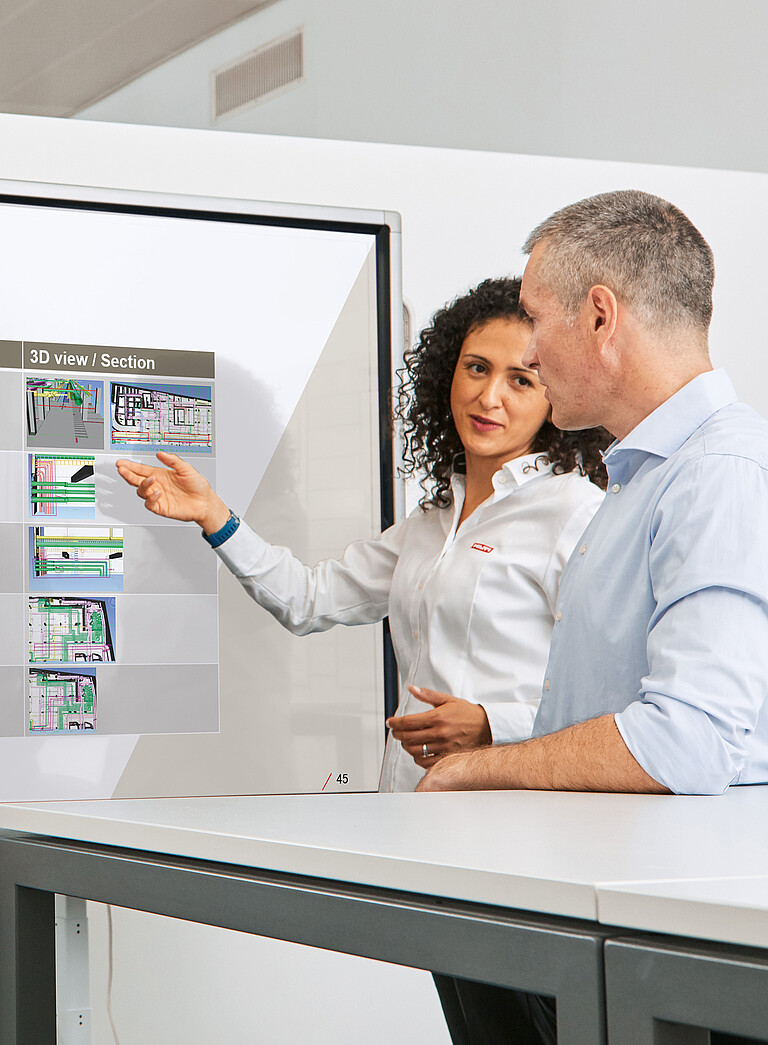 All projects begin with the right level of data and planning. To choose the most suitable fastening solution for a specific location, load and material, calculation software defines the appropriate anchorage based on the given parameters. During the team's calculation, it became evident that the approach using Hilti anchor studs would minimize the required amount of material compared to the solution previously used. The reduction in the amount of material, and associated weight, resulted in savings of 490 tons of CO2 for the company's German project business and a reduction of the environmental impact of Schindler's elevator shaft application.
Once the calculation was finished, and there was a clear understanding of how much material was needed, the project teams from Hilti Germany and Schindler Germany took a closer look at the packaging and shipping of the goods with sustainability aspects in mind. Besides material savings, the collaboration between Schindler and Hilti also started the discussion on an optimized packaging solution. The advantage of the adapted packaging would be the reduced number of individual packages shipped, and thus an additional potential CO2 saving.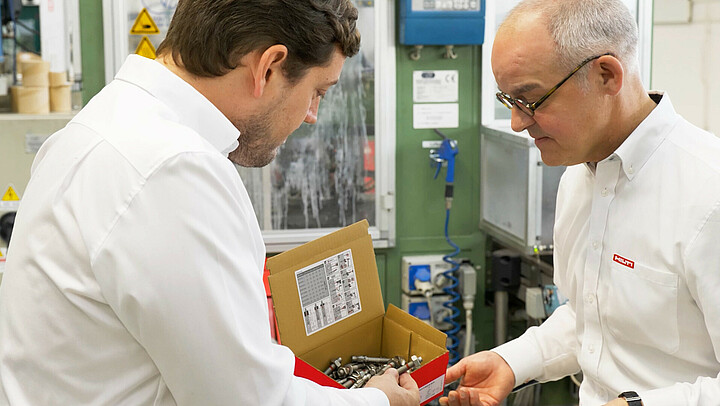 Our partnership with Schindler is not only limited to a more sustainable anchoring solution but also includes our Fleet Management model as well as our On!Track asset management system. This cooperation is one of Hilti's most prominent examples of how our Fleet Management program can help businesses achieve higher levels of productivity, safety and circularity by leveraging services such as repair, collection, lifetime extension and our tool-as-a-service concept.
We always strive to provide our customers with a better option and offer more than the product itself. Thanks to our customer's trust and the sustainability benefit created in the project's implementation, we were able to develop a pilot project for Schindler that can be rolled out as a standard solution to further support the customer's sustainability goals at all its locations.
Schindler has committed to reach net zero greenhouse gas emission by 2040. To achieve this goal, we are working closely with our suppliers to reduce embodied carbon in the solutions for our customers. Our relationship with Hilti is a good example of our approach.

Jörg Naescher, Head of Global Sustainability Schindler
FIRST STEP IN SUSTAINABLE CONSTRUCTION WITH MERCK
We always look for new solutions to help us support our customers in becoming more sustainable. In doing so, we assess our customers' projects in terms of their environmental performance along the entire cycle – from initial idea to the end of life. To identify early improvement potential, we proactively look for areas where we can add benefit to our customers' business.
When the Germany-based science and technology company Merck was looking for a partner in the planning phase of its newest location in Darmstadt, our customer sustainability team noticed that the customer's waste score had not significantly improved since 2019. After a closer look, it became clear that construction waste, mainly accumulated during the building of new laboratories and offices in recent years, was the main driver of the high waste score.
Our team identified this as the ideal opportunity to offer Hilti's integrated design services and thereby optimize the existing design of products used during construction. This service enables construction planning to be designed according to material needs, showing the exact cost of the required material while also considering all other trades involved in the building process.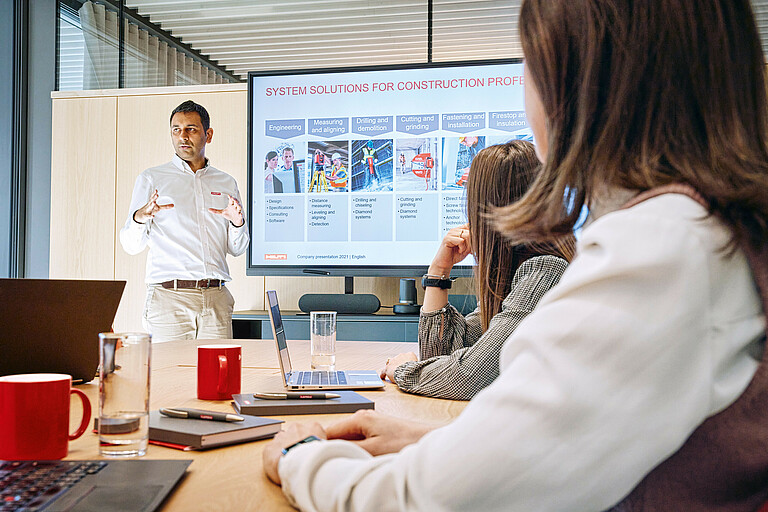 By using the BIM methodology during the early design phase, our team of project managers, lead engineers and modelers is able to design towards maximum resource efficiency. This optimized design, for the accurate usage of required material, will result in 50 percent less material going to waste and a potential CO2 saving of 120 tons.
Through integrated project solutions, we will also be able to improve the project's overall construction process. Creating a digital twin of the project lets us predict and rectify overlaps of different trades in the model, which is significantly faster and cheaper than solving these problems directly on the construction site. Additionally, we can embed further use cases for our products, such as prefabrication and the Jaibot, into the project and calculate the overall carbon footprint of all products used. These efficient processes contribute to optimizing the project and thereby to improving sustainability aspects.
Merck was not only interested in reducing construction waste in the new project, but also aimed to achieve a higher score in the German Green Building Scheme of the German Sustainable Building Council (DGNB). The transparency of our products' carbon footprint paired with accuracy of the BIM material list, allowed us to calculate the carbon footprint and savings for our customer. Our findings, and potential score points for the green building scheme, contributed to Hilti being chosen as the selected partner for the project's design stage. Merck's openness to our proposed solutions for more sustainable construction is a great example of partnership at the supplier level that can further drive our customers' sustainability ambitions.
Through our differentiated offering and the continuous exchange with our customers, we aim to add value to our customers' business and support them in reaching their sustainability goals.
120Tons savings of CO2

for the company's German business and a reduction of the environmental impact

>50 percentLess material (going to) waste

due to optimized design, for the accurate usage of required material